The bead loom is my camp craft of the winter. It all started with
beaded dog collars
, and now I'm bringing the technique to humans.
While
Mabel
can TOTALLY pull off a navajo print, I wanted to do something a bit more elevated for myself. Creating solid blocks of color on the loom takes the technique in an unexpected direction. It's also SUPER mindless and easy to weave since you're not switching colors- SCORE.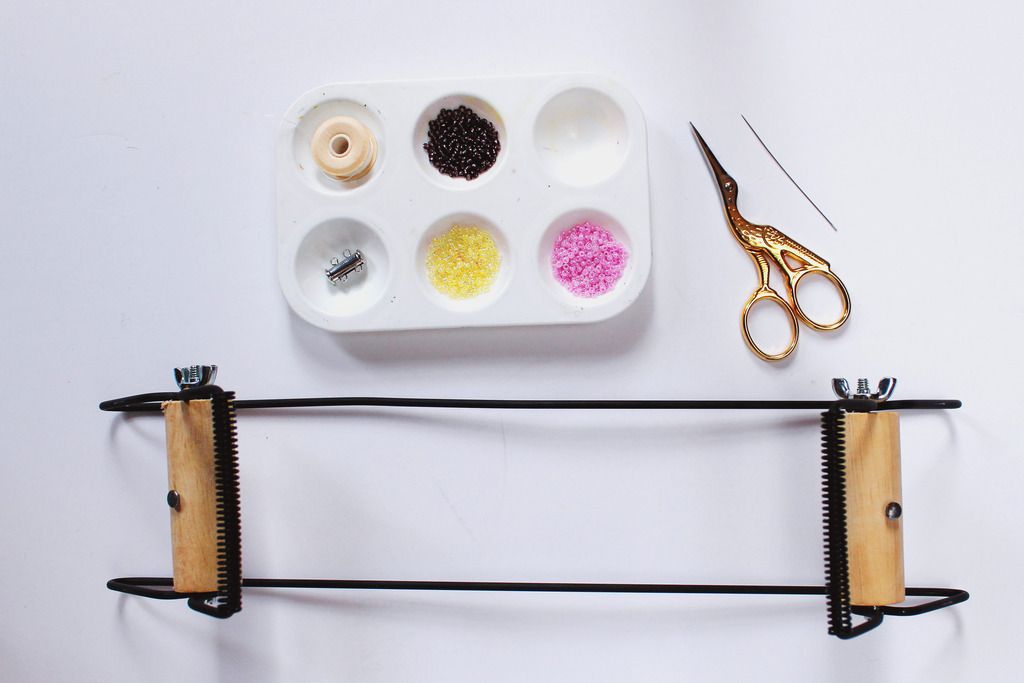 Supplies: 
Size 11/0 seed beads in the colors of your choice (I picked 3)
A beading needle
Beading thread
Step 1: Set Up Your Loom
As mentioned in our Dog Collar Tutorial, the ladies over at Beadaholique have a bunch of super helpful videos to help you get started.  Follow the video below to set your loom. It also shows the basic beading technique that we'll use throughout the project.

Step 2: Start Beading! 
Start with your solid color block and start beading. Continue to bead until your solid color reaches 4″. Then begin your stripes. There's no need to rethread your needle, just pick up a row of your darker color beads and switch dark to light rows for another 2.5″. These measurements are for a bracelet that will be 6.5″ long. If you want a more custom fit, measure your own wrist and adjust accordingly.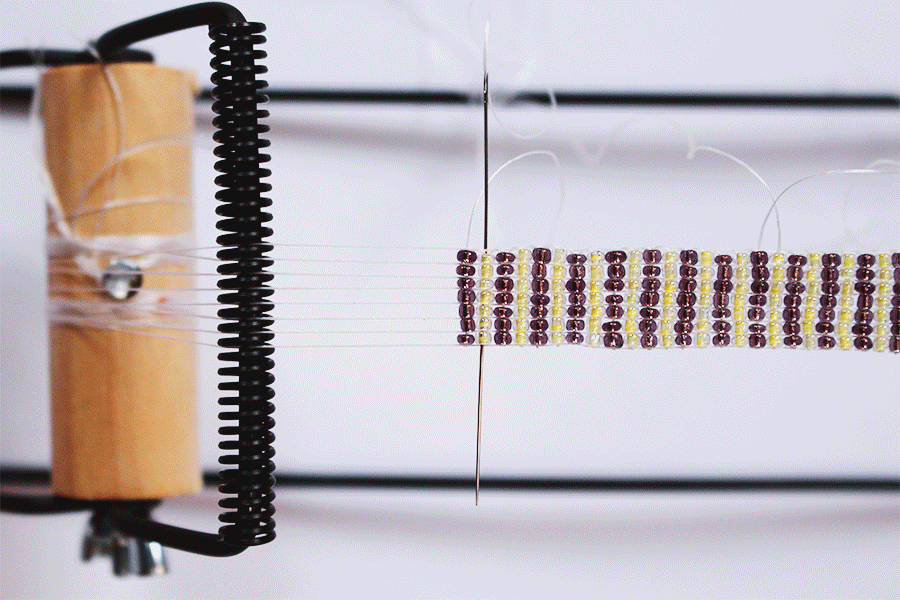 Step 3: Weave in ends
Straight up- this part is a bit time consuming. Not hard, just tedious. At this point you will see you have some loose threads that need to be dealt with. A tail at the very beginning of your piece and one at the end. You may also have a few throughout if you ran out of thread and needed to add more. To weave these in to your piece,  thread your needle with the strand weave back and fourth for 6-10 rows and then trim any excess. The gif above shows you how it's done.

Step 4: Remove your bracelet, weave in more ends
Now remove your piece from the loom by unscrewing the side bars and releasing the tension. Cut the threads on either side so that all strands have 8″ tail. Repeat the weaving in technique above for all of your tail threads. This technique will give you a nice clean edge to attach your clasp.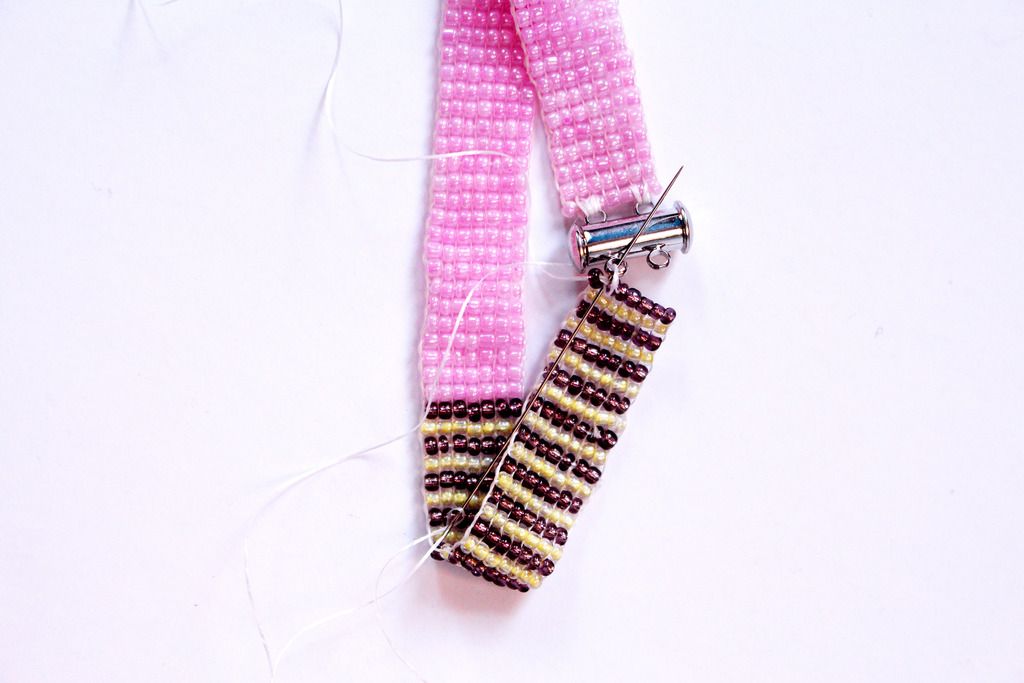 Step 5: Attach clasp and celebrate!
To attach your clasp, simply thread your needle and insert it between the first and second rows, and first and second beads, of your beaded piece. You're going to make two "v"s, with the two clasp loops being the point of each "v." Leave an 8″ tail for weaving in later. Now insert your needle into the metal loop of your clasp and back into your beaded peice. Continue this motion 5 times and then hop to the space between the second and third bead and repeat for 5 more sititches, inserting into the same clasp loop as before. Now hop over two beads (you should be between the second and third bead from the other end) and begin the same technique with the second clasp loop. Finish with 5 stitches between the first and second beads and weave in your thread. Go back and weave in your starting thread as well.
Repeat the technique on the other side.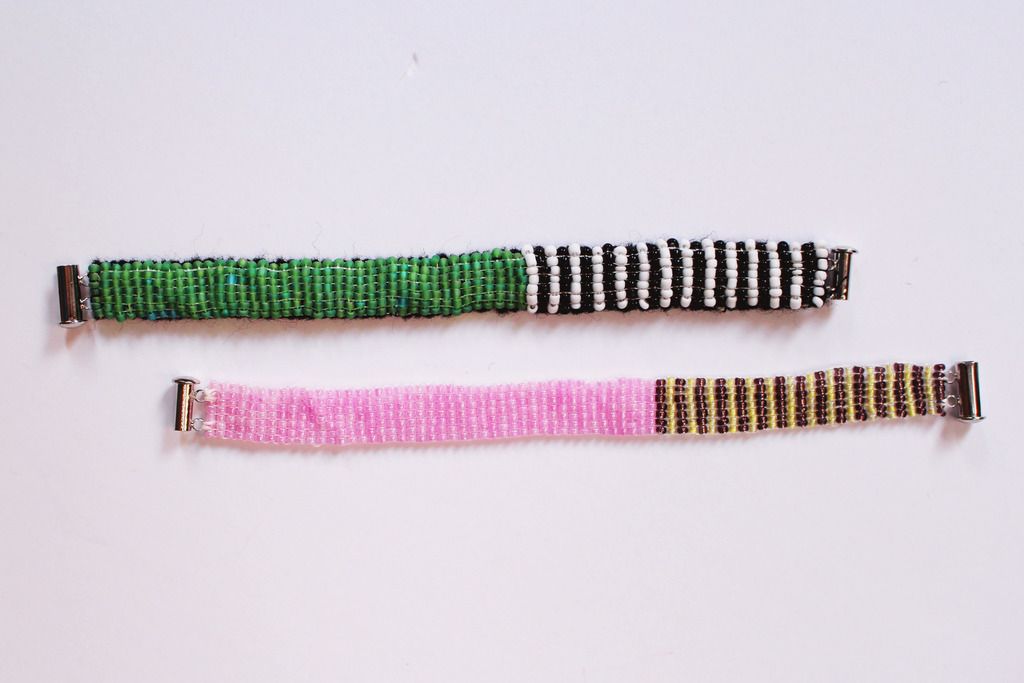 Tada!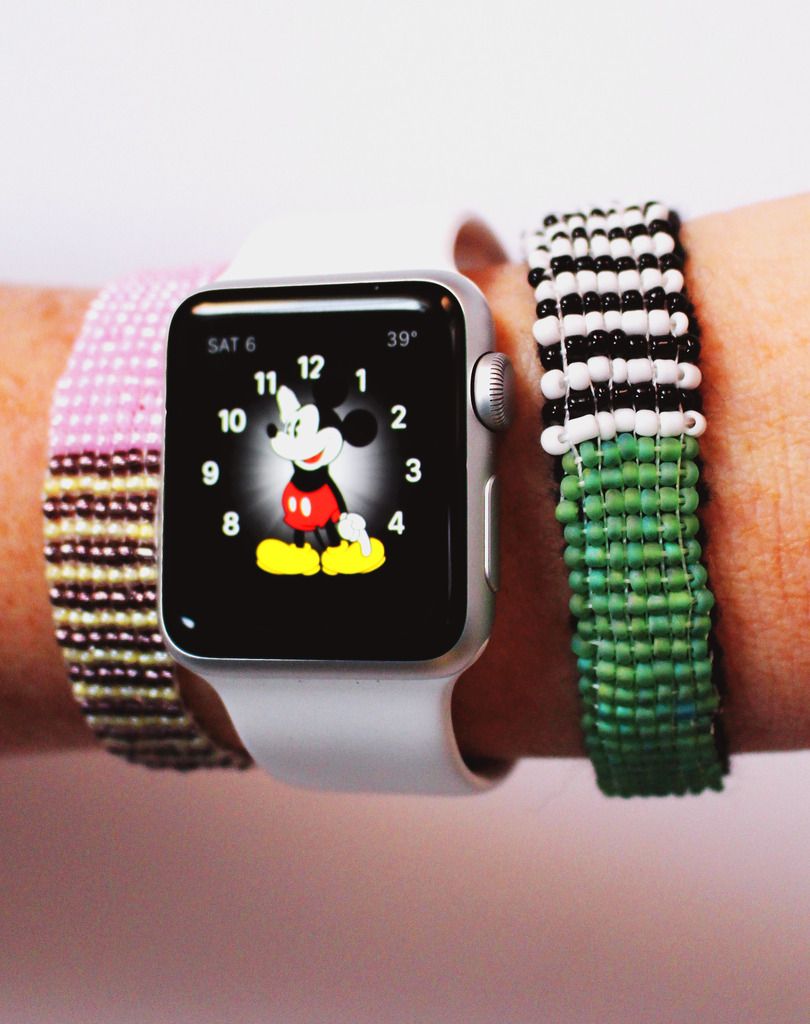 Also- look at my new Apple Watch! YAY