It is a truth universally acknowledged, everything in your grandma's house will eventually be cool again. From knitting, to mid-century modern, to tapestries, and prohibition cocktails, the attics of yesteryear hold the secret to the next hot trend.  Friends, I have a prediction for you. Needlepoint is about to have it's day.
Needlepoint is basically cross stitching's cooler, chicer older sister. You work yarn through a taught canvas that's usually pre-painted with whatever you want to create. Instead of just making  bunch of  "x" marks, there are dozens of different stitches you can use. Because the finished product is quite sturdy and stiff, you typically see needlepoint used for pillows, seat covers, eye glass cases, etc.
The one thing holding needlepoint back from craft domination is that canvases are crazy expensive and, more often than not, busted, farty, or just really creepy. However, glimmers of hope are shining through! From emerging artists to the wild world of Etsy, here is some needlepoint inspiration. You will be so on trend.
Jonathan Adler
Johnathan Adler is the OG when it comes to needlepoint- he's got boat loads of beautiful pillows and accessories to check out.
Old + New
Keep an eye out for vintage patterns where you can modernize the color palette and add your own spin. This pillow is a great example of a classic updated. It's also a Felicity Hall pattern that you could just pick up right now if you want.
Bargello
Bargello is a geometric style of needlepoint that was super popular in the 70's. This photo from Wary Meyers has been in my "dream house" file for years.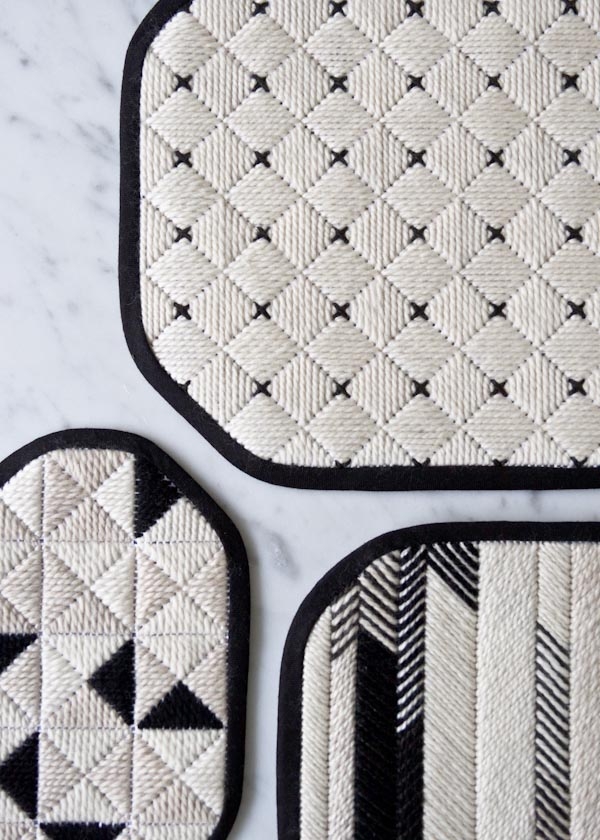 Oven Mitts!
Even Purl Soho is getting in the action. Loving these simple patterns.