Avocados and toast, Netflix and chill, crafting and television. Some of the most powerful duos of our time.
Yet not all television is created crafty. Shows like Game of Thrones or Pushing Daisies are so visually enthralling, you'll miss all of the action. Shows like Mad Men or The Wire are so complex and quiet, you'll miss the subtle moments that make them shine.
So I set out to compile the best-ever most epic list of shows to craft by. Some are funny, some are serious, all are dialogue-heavy and easy to follow. Get ready for some major binge watching- your life is about to get CRAFTY.
ON NOW
Nashville
ABC, Wednesdays at 10/9c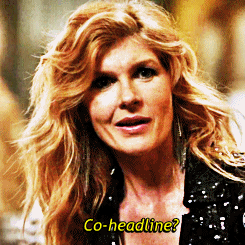 Yes, Tami, you're co-headlining with crafts. Real talk- I love Nashville so much. While the music is fantastic and Connie Britton can do no wrong, Nashville is a great show to craft by for one key reason- Teddy Conrad.  There is an entire plot line on Nashville that is so unnecessary, it could be replaced by this and be just as interesting. Teddy plots provide the perfect opportunity for you to check that pattern, count those stitches, and just hop back on that Nashville stallion when Hayden Panettiere comes strutting back on screen.
Jane the Virgin
The CW, Mondays at 9/8c


I caught up on Jane the Virgin over the summer and it is hands down my new favorite show. Never heard of it? You're not alone. The show kicks off with Jane, a virgin, getting accidentally artificially inseminated at her yearly gyno exam. What follows is a funny, joyful exploration of what it's like to have your life flipped upside down yet never loose faith in yourself. Did I mention it's narrated like a telenovela? It is. Just watch it. You will love it.
You're the Worst
FXX, Wednesdays at 10:30PM


This is a new one for me, but it's a keeper. It follows two people, who both claim they are "the worst", as they accidentally-kind-of-sort-of fall in love with each other. While everyone is cute and it's shot in sunny LA, it's the witty dialogue and sexy British accents that really drive this show. Feel free to crochet away- you won't miss much.
American Experience
PBS, new episodes monthly (the last one featured Walt Disney, the next…Tuberculosis!)

You know those shows you really should watch, but never get around to pressing play? Like, you totally want to watch that 4 hour documentary about famine, but American Ninja Warrior exists? Well friend, crafting plus documentary is your dream combo. You can simultaneously dive into a full-on craft project, enrich your life through knowledge, and feel smugly fancy for being so cultured. Win win win!
(Not) Empire
Fox, Wednesdays at 9/8c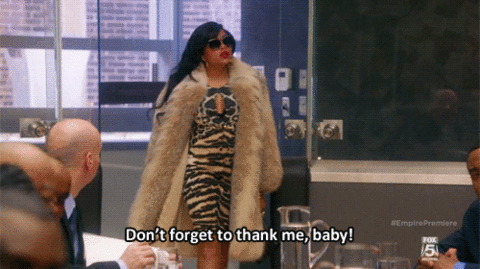 I initially put this on the list because, similar to Nashville, there are plenty of songs and over the top plots to keep a distracted mind entertained. But then I realized, if I wasn't looking at the screen I would miss the leopard prints, the flashback hair, and the emotional garbage dancing that makes this show the glorious train wreck that it is. So give Empire your full attention. I don't know if it deserves it, but you sure do.
OLDIES BUT GOODIES
The West Wing
Netflix


Aaron Sorkin, inventor of the walk and talk, is the god of shows to craft by. From characters who never stop talking to an orchestral score that swells whenever something exciting happens, this show is basically built for splitting your attention. Also- prepare for a new idol to worship- her name is C.J. Cregg.
Friends
Netflix


The glorious byproduct of over-syndication is that most of the world has seen every episode of Friends- twice. It's so ingrained in our pop cultural DNA, you can be barely paying attention and still know exactly when Ross is about to PIVOT. With 83 hours at the Central Perk ahead of you, Friends will be with you for the long haul.
Arrested Development
Netflix, Amazon Prime, Hulu


Arrested development- you gorgeous weirdo. This show is great for distracted watching because a narrator straight-up tells you what's going on. Ron Howard's voice sets up every scene and every joke. Watch it. Watch it again. Watch it a third time. And with every viewing, you will find a new morsel of funny you never knew was there.
Friday Night Lights
Netflix


Clear eyes. Unfinished afghans. Can't loose. FNL rates slightly lower than the rest on craft-ability because there will be moments where you will have to abandon your project for one of the following reasons:
There are 10 seconds left in the playoffs! Must jump on your couch!
Tim Riggins is feeling vulnerable and abandoned and now you are too.  Must cry!
You realize Mrs. Coach is a better parent than anyone you actually know. Must take notes!
Don't like football? You will! Don't like Connie Britton? You're dead to me.
Well there you have it. Hope the shows on this list provide you with hours of distraction-filled fun. I'll keep my eyes peeled for new additions! What are your crafting go-tos?