I have a straight up crush on any fiber wall hanging. Dreamcatchers, macramé, weavings- I want in.
This wall hanging looks classy AF, but is actually incredibly simple to execute. The best part- I've found that you can use any yarn, any color you want, and it still looks great. Your scrap yarns are jumping for joy!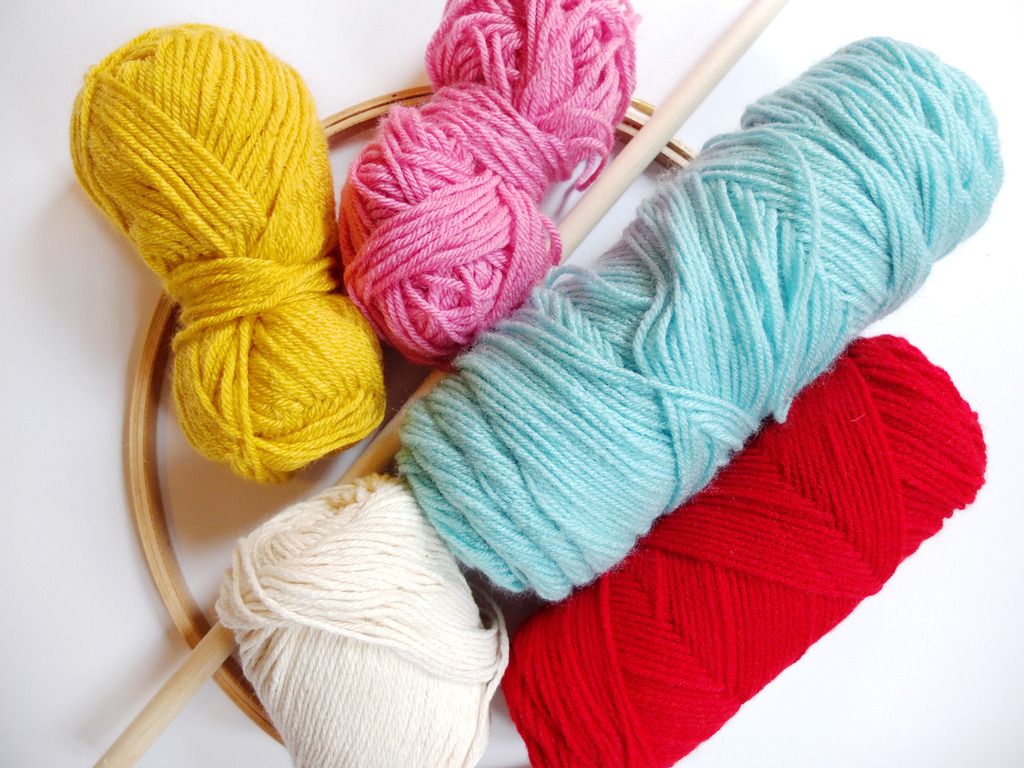 Supplies
Yarn-  approximately 336ft, but there's plenty of flexibility. I chose 5 colors.
3/4″ Wooden Dowel
12″ Embroidery Hoop
E6000 Adhesive
Scissors
Hack Saw
Painter's Tape
Clothing Steamer or Iron
Step 1: Cut Your Yarn
You'll be cutting 48″ strands of all of the colors you want to use for the hanging strands of your piece. The amount you cut of each color is up to you. I cut 12 strands each of red, pink, and teal, plus 20 strands each of yellow and tan.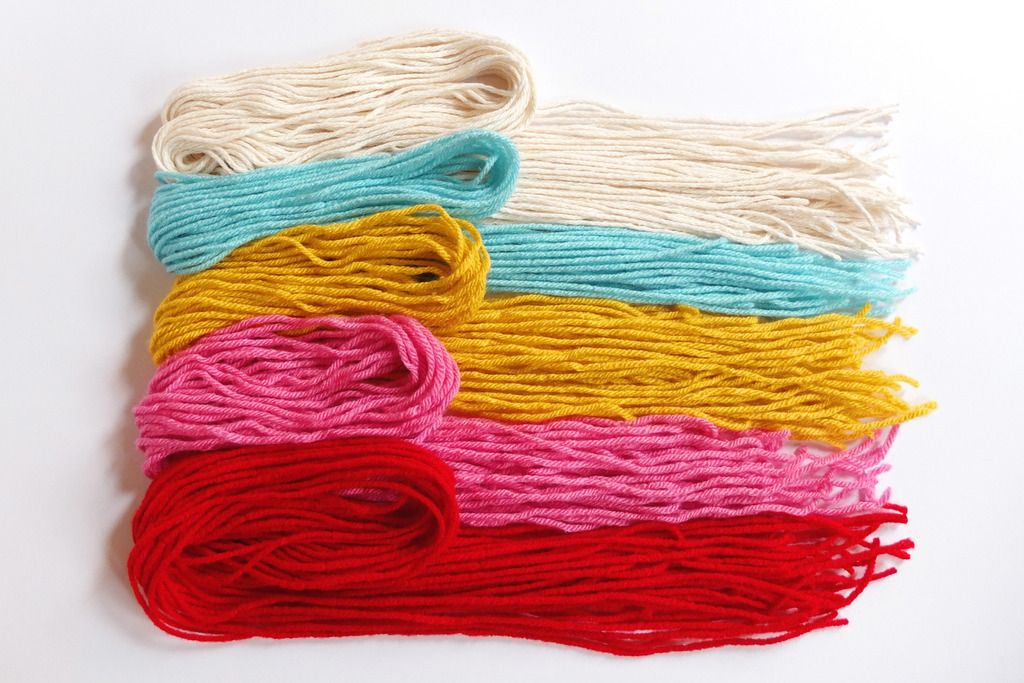 Next, cut a 9 yard strand of the dominant crossbar color. That was tan for me. Cut a 1 yard strand for your secondary color- teal for me.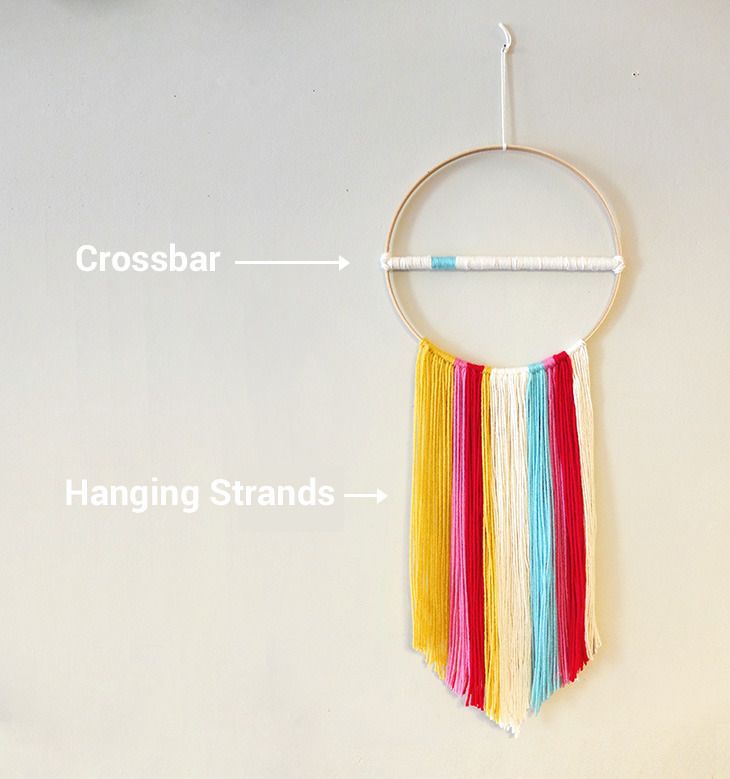 Step 2: Attach Hanging Strands
Separate the inner and outer rings of your embroidery hoop. Put the outer ring (the one with the fastener on top) aside- we're using the inner hoop for this one. You can actually use either ring to create your piece, so be sure to save it for later!
Now you're going to attach each strand individually with a cow hitch knot.
Color blocking is key, so use your gut and apply your strands in thicknesses that feel right to you. As you go, push your strands together- the tighter your cow hitches sit next to each other, the fuller your piece will look. Cow hitch knots are super easy to adjust, so mess with it as much as you want.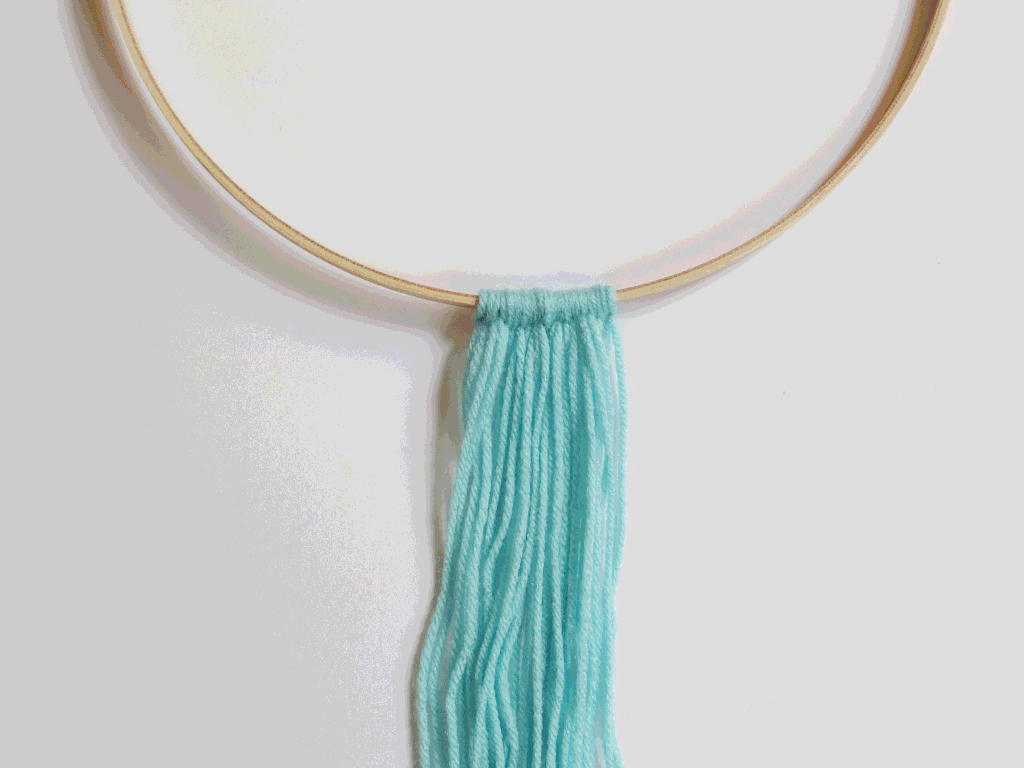 Step 3: Steam
This is critical! In order to make a clean, sharp angle in the next step, your strands need to be as relaxed as possible. Find a nail on the wall and hang your piece from it to steam. If you don't have a steamer, your iron's steam setting should work just fine. See the pink and yellow strands looking all scraggly in the 'before' image below? That's what we're steaming out.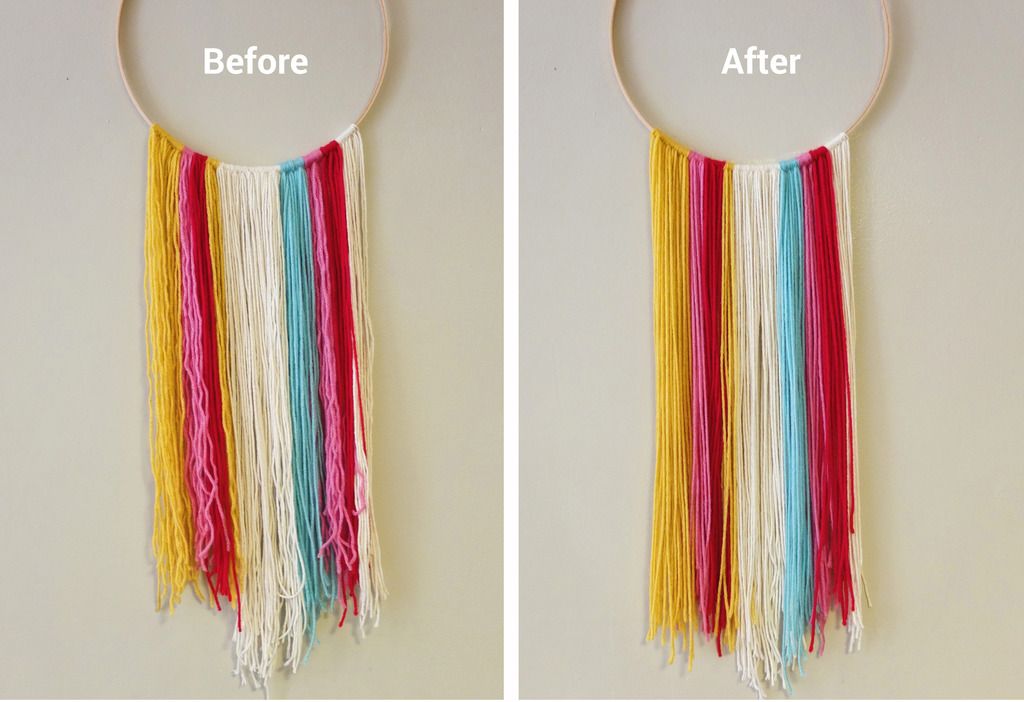 Step 4: Cut Your Angle
The technique for this is just like a haircut- make a big cut, then trim to even out and make it look amazing. Use painter's tape to create a "v" at the bottom of you strands.
Use a scissor to cut above your tape. Run your fingers through the strands and cut any outliers or weirdos.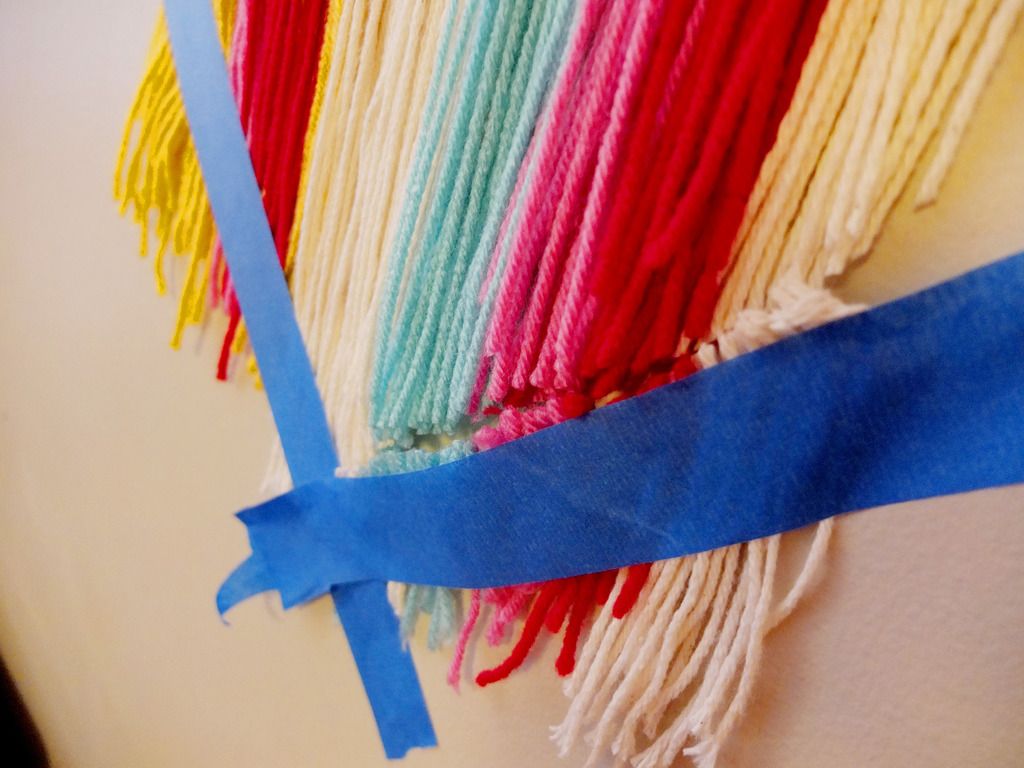 Step 5: Create Your Crossbar
Cut your dowel to 12 1/4″. The extra 1/4″ adds tension to the ring, helping your crossbar stay in place. Apply adhesive to the ends of the dowel and insert into the ring. Let dry.
Step 6: Wrap Your Crossbar
Since you just used glue to fasten your crossbar, the string is purely decorative. I'll show you how I created mine, but I would encourage you to not get too caught up in the details. The objective here- make it look fly.
Starting at the back of your piece, wrap your dominant color around where your crossbar and ring connect. Use a figure eight motion, over and over, to create a decorative "X" at the connection point.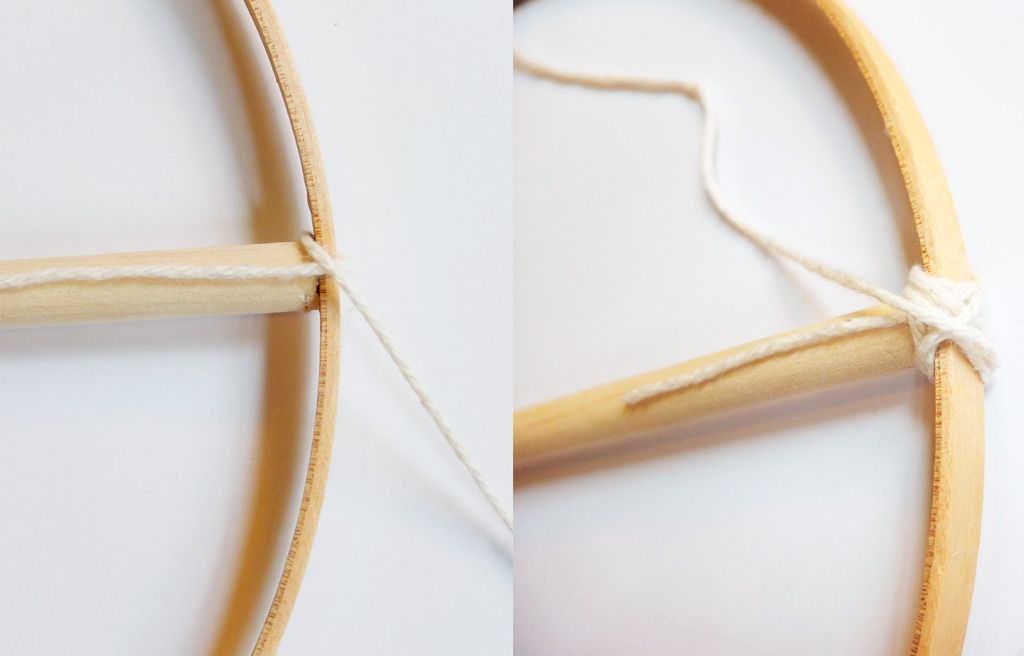 Start wrapping the strand around the crossbar, over and over, until you want to add your secondary color.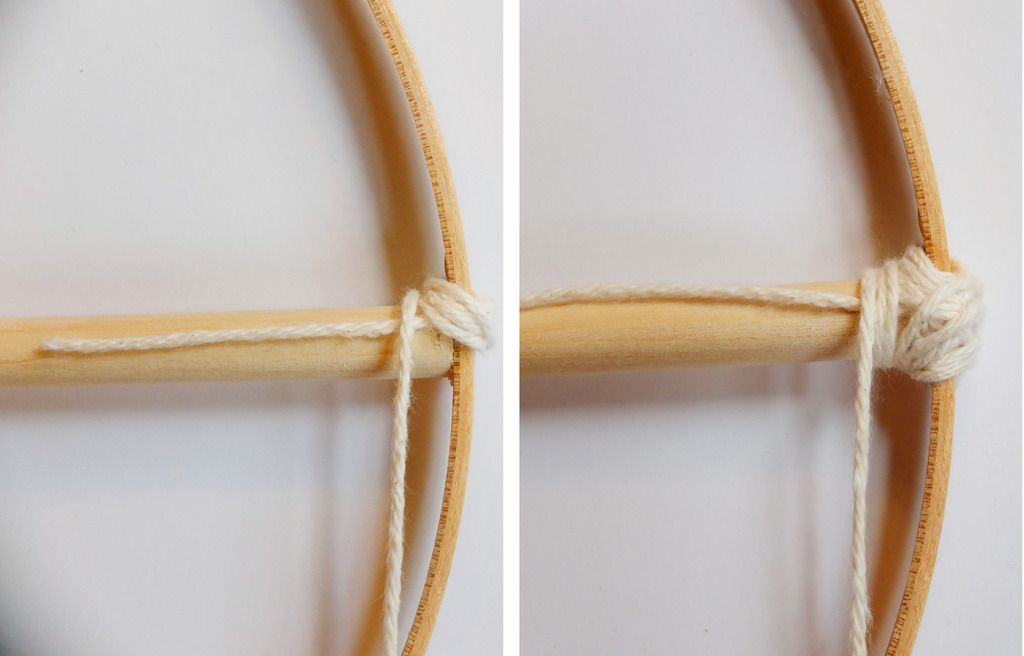 Introduce your secondary color by holding the end of your secondary color and the working strand of your dominant color parallel to the crossbar and wrapping the secondary color around both strands. When you're ready to switch back over to your dominant color, repeat this step.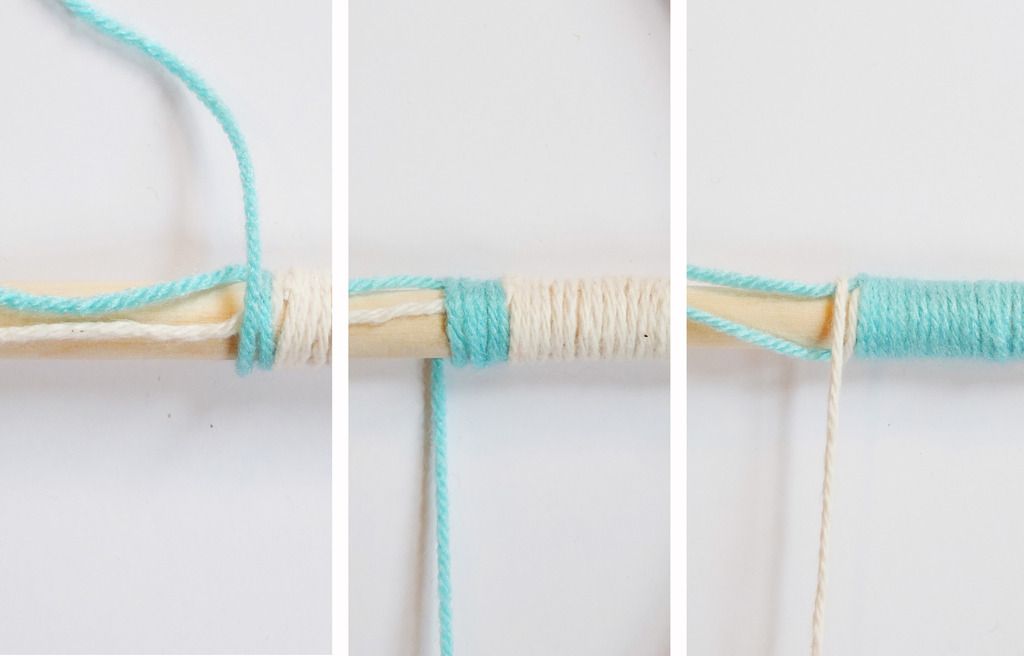 To finish, repeat the figure eight motion you used to create the decorative "X" on the other side. Tie a knot in the back of your work and add a dot of glue to secure.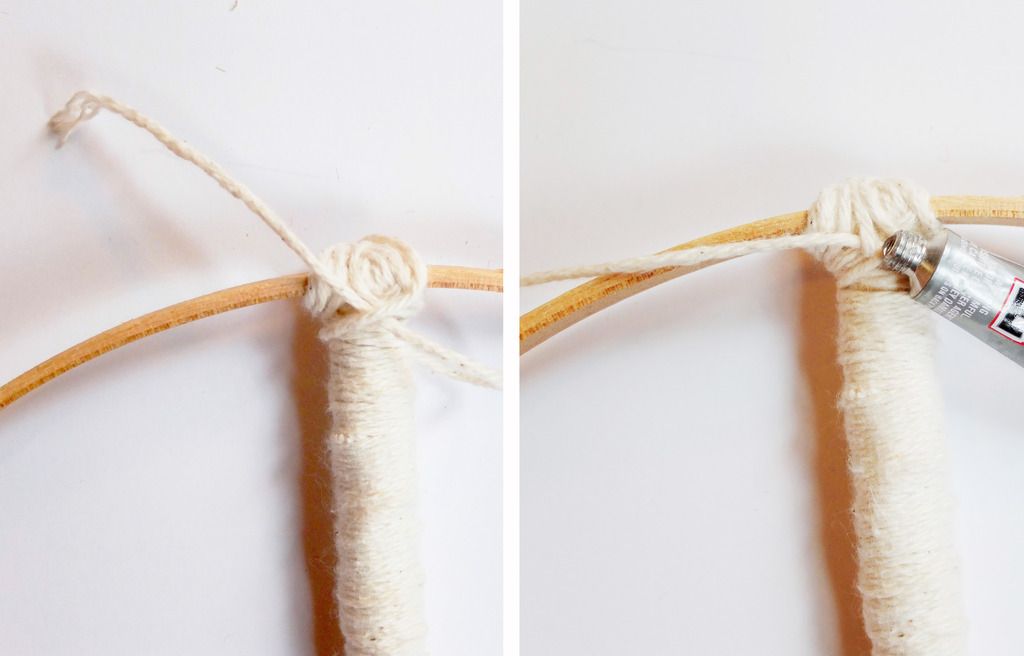 Step 7: Hang!
You did it! Final step is to add a simple hanger. Take a 12″ length of cord and knot the two ends together. Create a cow hitch at the top of your piece, put a nail in the wall, and hang!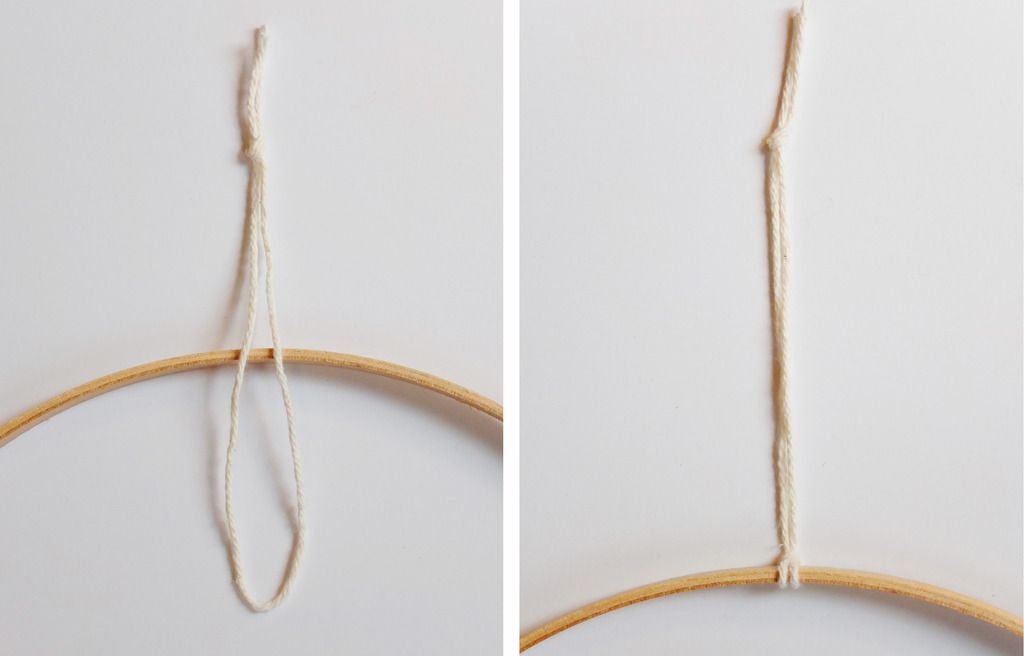 BAM!